TRAININGS WE GAVE IN GÜVENSAN ACADEMY
DUE TO LEGAL
OBLIGATION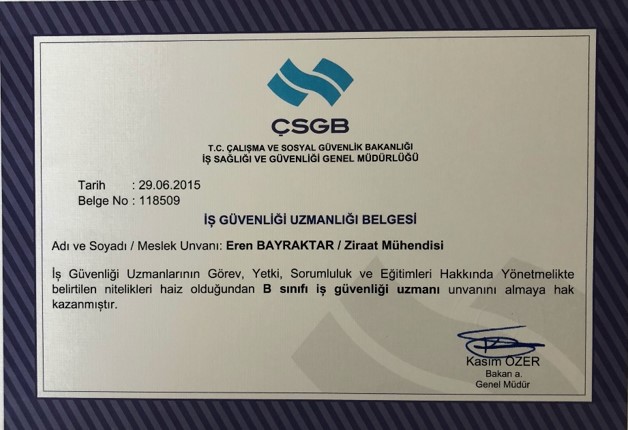 1- Basic Occupational Health And Safety Training

It is one of the legal obligations of employers to ensure that every employee working in all sectors gets basic occupational health and safety training.
Training Topics:
Information on labor legislation
Legal rights and responsibilities of employees
Workplace cleaning and layout
Legal consequences arising from occupational accident and occupational illness
Basic occupational health and safety technical issues

Legal Basis:
The employer ensures that employees get occupational health and safety training. This training is especially given in the event of a change in the work place or job, change of work equipment or application of new technology before starting work. The trainings are renewed in accordance with changing and emerging new risks and repeated at regular intervals when necessary.(Occupational Health and Safety Law No. 6331 Article 11)

(6331 sayılı İş Sağlığı ve Güvenliği Kanunu Madde 11)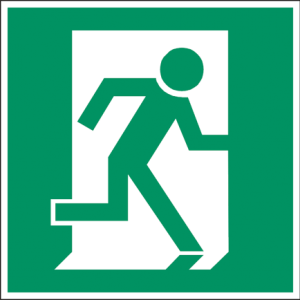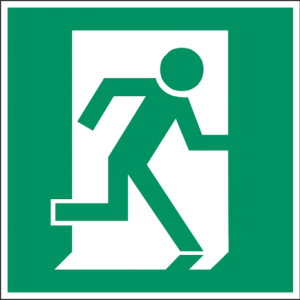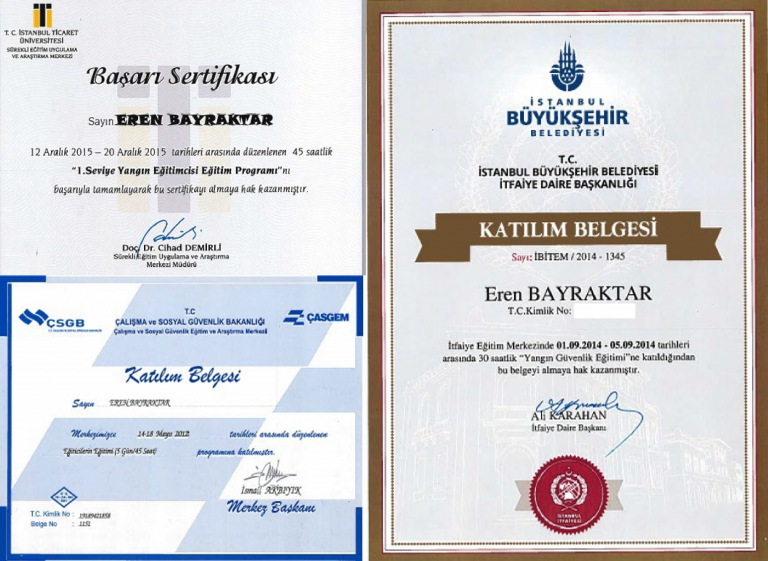 2- Emergency Drill & Training
One of the legal obligations of employers regarding training and emergency drills of emergency teams, which are skipped and unknown in many workplaces is creation of emergency teams in accordance with the hazard class of the workplace and conducting emergency exercises and training for teams.
Emergencies:
Events that may occur in the whole or part of the workplace like fire, explosion, natural disaster requiring emergency response, control and first aid or evacuation.
Emergency Teams:
It consists of search, rescue, evacuation, firefighting and first aid teams.
Emergency Drills:
The necessary corrective and preventive activities are reported by conducting exercises at least once a year at workplaces.
It is a legal obligation for all workplaces to conduct emergency exercises, to create emergency teams and to provide training.
Legal Basis:
The employer, taking into account the size of the workplace and the specific hazards it carries, the nature of the work done, number of employees and other persons in the workplace; appoints an adequate number of persons equipped and trained in such matters as prevention, protection, evacuation, firefighting, and first aid teams and provides equipment and training.
(Occupational Health and Safety Law No. 6331 Article 11)
3- CERTIFIED TRAINING FOR WORKING AT HEIGHT
Which Professional Groups Are Covered By Training?
Any area where there is a level difference and the possibility of injury as a result of fall is considered high and all personnel working in these areas should be trained to work at a high level.
Purpose of Training:
To teach techniques to maintain healthy working at high and work safely, installation of high-safety operating equipment and environment, equipment safety control issues and to gain the necessary awareness to prevent accidents.
It is a legal obligation for all personnel who will work at higher levels to get training at higher levels.
Legal Basis:

Occupational Health and Safety Law No. 6331


Occupational Health and safety training of employees


Regulation on procedures and principles


Regulation on Occupational Health and Safety in construction works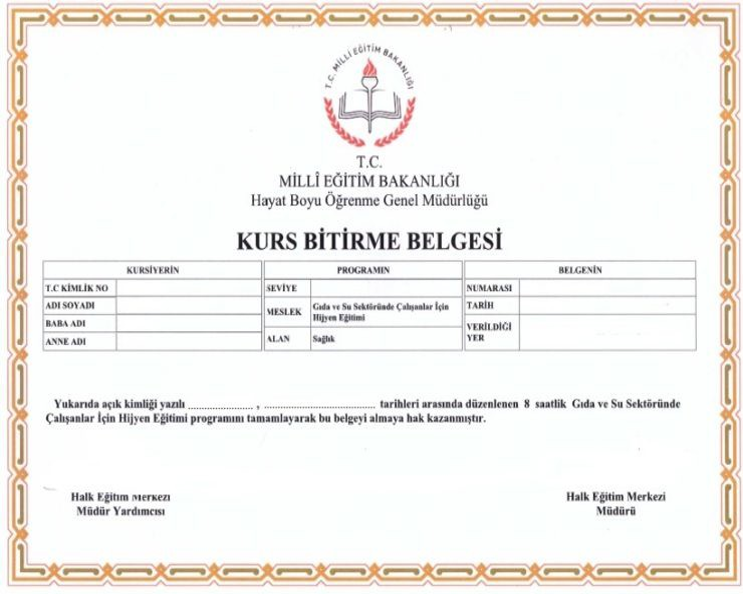 4- MINISTRY OF NATIONAL EDUCATION APPROVED CERTIFIED HYGIENE TRAINING
Purpose of Training:
To provide hygiene training for the workers in food production and retail work places, where service is based on contact with the human body.
Legal Basis:
Regulation on hygiene training Article 2
a)Food production and retail establishments.
b)Work places that produce natural mineral waters and waters for human consumption.
c)Spa, bath, sauna, barber, hairdresser, tattoo and piercing places, massage and beauty salons and similar places.
Personnel who will be employed in places such as hotels, motels, hostels and guesthouses must obtain a hygiene training certificate.
TRAINING APPLICATION FORM