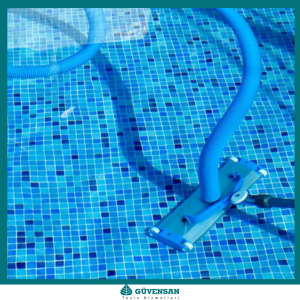 Main Areas of Our Service:

Cleaning of swimming pool during summer and winter periods,

Measurement and spraying of pool water,

Pool Water Analysis and Reporting.
In accordance with the standards of filtration and disinfection system, we serve as Güvensan Akademi for the periodic maintenance of the pools on time.
Periodic maintenance of swimming pools should be done on time and the water quality standards of the pool are a legal obligation.
Legal Basis:
"REGULATION ON HEALTH PRINCIPLES THAT SWIMMING POOLS SHALL BE SUBJECT TO (1)"
The purpose of this regulation is to regulate the procedures and principles related to the compliance of indoor and outdoor swimming pools and their water with hygienic conditions, determination, inspection and monitoring of the quality standards of swimming pool water.